Shangri-la is known as "paradise on earth". A fictional, Tibetan utopia, similar to the Garden of Eden in the Bible. It's also a diner in Queens, New York; decidedly less than utopian, but the namesake of one of the most important girl groups of the 60s. The Shangri-Las came to fruition in the midst of the "60s Pop" heyday, and silently left the stage 3 years later, with barely a whisper. Their locked-down harmonies and onstage charisma painted even the Supremes in a paler light, but the four teens from Queens would never get the recognition their peers received, and have yet to achieve the same legendary status they  deserve. Everyone knows at least one of their songs, but only a handful know any of their names.
It all started with a two sets of sisters, in a quiet suburban area of New York. Mary and Betty Weiss grew up blocks away from Marguerite "Marge" and Mary Ann Ganser, going to the same schools, eating at the same soda shops, and buying ice cream from the same Good Humor man. They began singing together during 1963/1964, becoming good friends at Andrew Jackson High School. They all had an interest in music and loved the same styles. Getting together to practice harmonies and learn the songs on the radio, they soon began playing high school dances in the area. They came to the attention of Artie Ripp, who signed them to Kama Sutra records. By December of 1963 they had released "Simon Says", followed by "Wishing Well/ I Hate To Say I To You So". The girls shared leads on these early records, but Mary emerged as the group's lead vocalist, with Betty, Marge and Mary Ann falling in on tight harmonies.
April 1964 saw the end of their time with Kama Sutra, and the beginning of their career with Red Bird Records. Since none of the girls were 18 yet, their parents had to give consent for any of their managerial decisions, sometimes even accompanying them on tour as chaperones. At this same time, they met a young business man trying to pass himself off as a songwriter. George "Shadow" Morton was trying to get a foot in the door at the Brill Building, through his connection Ellie Greenwich, but he had nothing to show for all his big talk. He quickly assembled a band, booked a studio, and hired the Shangri-las to sing vocals. On the way to the session he realized the only thing he had forgotten to do was write a song! He pulled over, whipped out a pen and scribbled down what became the girls' first smash, "Remember (Walking In The Sand)". The session, which included a young Billy Joel on piano, went off without a hitch and the Shangri-las had the summer hit of 1964.
[youtube=http://www.youtube.com/watch?v=Fy8_38U3xLU]
When Ellie and her husband Jeff Barry realized what they had in their hands, they sat down with George to write a follow-up record. The song was "Leader Of The Pack" and the record secured the Shangris' spot in the pantheon of Pop History. I can't think of anyone who has never heard that song. It became the quintessential teen death song. Every song they recorded was a mini-melodrama in itself, but "Leader" became their signature. It transformed them from the squeaky-clean bobby socksers to the leather-clad, trouble making bad girls that everyone wanted to be near, without having the guts to talk to. They became the girls you didn't mess with, overnight.
The material they produced was everything from sparkling girl-pop to heady songs about teen runaways, lost loves in memory to lost loves in motorcycle accidents, loss of innocence and loss of everything sacred. Sometimes campy, but always richly produced, Morton incorporated everything from breaking glass and revving engines to lush symphonies and a capella clapping. Their image and stage presence set them apart from any other group of the time. They were the "bad girls" in a world of pristine "good girls". They choreographed their own moves for each song and were nothing less than dynamic. They came and went so fast, we didn't have time to process what they brought to the table.
1965 and '66 ushered in more minor hits, such as "Give Him A Great Big Kiss", "I Can Never Go Home Anymore", "Out In The Streets" and a version of Jay and The Americans' "She Cried", retitled "He Cried". They toured relentlessly, but the failure of Red Bird to advertise the new songs kept them from cracking the top 50. When Red Bird Records began to fold in 1967, they were brought over to Mercury, where they were quickly forgotten about, slipping into obscurity by the end of 1967. They made a brief comeback in 1977, or at least a brief attempt at coming back. They went back into the studio with
Andy Paley to record a new album with new material, all hand-picked by the Shangris. Summer came and went, the sessions were going well, and they even got a club date at CBGBs, for an impromptu jam. The show went great, but it fell apart from there. No album released and no explanation as to why.
Throughout their time in the spotlight, the personnel of the group seemed to change; this was because Betty was incredibly shy and refused to tour with the group. She would be on all the records, but wouldn't appear onstage with the rest of the group. Sometimes Mary would be there, sometimes Mary Ann would be there, and Betty finally began appearing onstage in 1965. For the most part, people considered the group a trio, not realizing there had always been a fourth member who never showed up. Mary Ann died in 1970 of either encephalitis or a reaction to barbiturates, and Marge passed away in 1996 from breast cancer. The Weiss sisters are still alive and well, having pursued family and careers outside of music since the early 70s.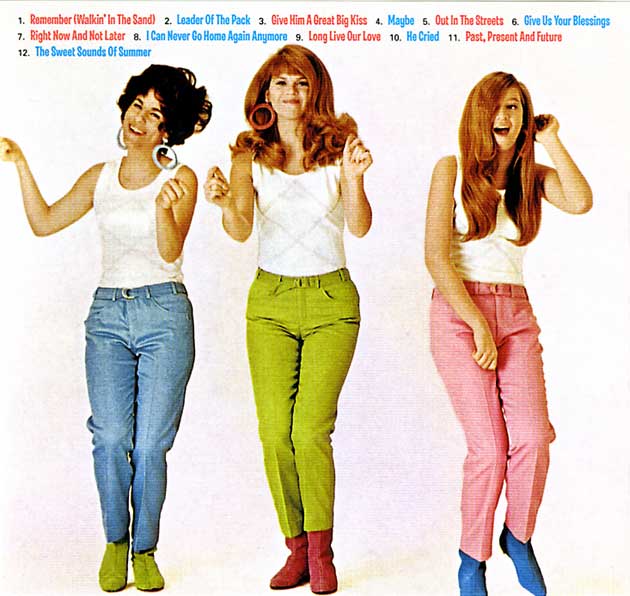 The Shangri-las' reputation also came into question on many occasions. The record label manufactured their tough-girl image for the release of "Leader Of The Pack", but the girls weren't just a product of the system; in some part, they lived up to their image. While they were on the road they were often kept from partying with the other musicians they traveled with, because they were minors. So, they had to make their own fun, which usually came out through innocent pranks played on people around them. The stories became inflated over time, and their fans ate it up. One such story was about Mary getting involved with the FBI, being caught carrying a firearm across state lines. She claimed that someone tried to break into her hotel room, so she bought a pistol for protection.
There are so many groups who claim the Shangri-las as an influence; their impact has had a ripple effect on the punk and rock communities without them even realizing it. Among those in the audience that night at CBGBs were Debbie Harry and Lester Bangs, the crotchety rock critic from Creem Magazine. He was jumping up and down from excitement, saying how great the show was. "Remember (Walking In The Sand)" was cut by both Aerosmith and Louise Goffin, Twisted Sister cut "Leader Of The Pack" in the 80s, which is also rumored to be the inspiration for Joe Jackson's hit "Is She Really Going Out With Him" (reference to the opening line of "Leader Of The Pack"), while The Bangles still perform Shangri-las hits in their live shows.
The Shangris accomplished more in the blink of an eye than many musicians can put out in a lifetime. They captured a moment in music history and managed to help usher in a new season, just by doing what they wanted. They emulated what it meant to be a teen and were able to present it in a package that even adults wanted the chance to open. Even if most of us have never heard their names, we know their songs. Songs are an artist's life story, so we know them as well as anyone. So let's give a little credit where much is due.
[youtube=http://www.youtube.com/watch?v=FGQt6GY8nKA]