The story of the little engine that could has been told and retold since the dawn of time. Everyone loves rooting for the underdog, because the unexpected victories are always the sweetest. It can come in any shape or size, on any scale, from neighborhood to nation. After all, America itself was once the underdog. At a time when black and white couldn't have been more polarized, Stax Records was able to bridge a cavernous gap, bringing together musicians and music-lovers who pushed a movement bigger than the sum of its parts into the living rooms and malt shops of a colorless America.
Jim Stewart was a young fiddle player when he began fiddling around in the recording business. It all started in 1957, in a garage somewhere in Memphis; Jim brought in Fred Bylar to record "Blue Roses", a country western song. The first record was issued in 1958, beginning a string of forgettable rockabilly and country-western cuts. That same year he enlisted the help of his sister, Estelle Axton, to help finance a bigger operation. Satellite Records had been in operation since 1957, but with the help of Estelle mortgaging her home, they were able to buy the equipment needed to make a serious go at recording. At this same time, they also relocated to a storehouse in Brunswick, TN.
1960 dawned bright for Stewart and Axton, but they had no idea how bright it would become. Admittedly, Stewart knew nothing about black R&B or blues. He was steeped in the hillbilly music he played, having never paid attention to the resurgence of black music. With the help of Estelle and his right hand man, Chips Moman, he became immersed in what was going on in popular music. They soon moved the business back to Memphis, buying an abandoned movie theater on East McLemore and College. With the help of Chips, Estelle and their recently signed band, The Mar-Keys (who included future members of the Stax house band Steve Cropper, Donald "Duck" Dunn, Packy Axton and Wayne Jackson) they transformed the dilapidated movie house into a studio. The seats were ripped out to make room for the performers and the stage was converted to a control room. Rather than spend extra money leveling out the sloped floor, Stewart left it as was, which proved a monumental decision. The shape of the room is what gave each Stax record it's uniquely deep, resonant sound. The room had no right angles, so sound waves could reflect off the floor and walls continuously, eventually just fading off into nothing. The result was a warm, reverberating cocoon of sound. Another factor in the success of the label was the record store they built out of the already present concession stand. This proved pivotal because they could test out new acetates for the public, figuring out what would sell and what wouldn't. It became a meeting ground for the community, where they could listen to and purchase the hottest music of the day. Not only did they feature Satellite records, but everything from across the country.
[youtube=http://www.youtube.com/watch?v=U-7QSMyz5rg]
1960 also saw the shift in recording, from an exclusively white roster to an exclusively black roster, beginning with a local DJ and his daughter. Rufus Thomas had experienced some success over at Sun Records in the 50s with his single, "Bearcat". Together with his daughter Carla, they cut "Cause I Love You", which quickly became a Memphis hit. Somehow it managed to travel from the radio towers of Memphis to the ears of Atlantic Records VP Jerry Wexler. Liking what he heard, he brokered a deal with Jim and Estelle, agreeing to lease the record and future recordings for five years. For $5,000, Atlantic bought the profits that would continue flowing in for decades to come. It was also the firing shot that launched Jim, Estelle and Satellite Records into the national market. This move would make it necessary to rename the label itself; unbeknownst to Stewart, there was another label in CA operating under the Satellite moniker. Rather than face litigation from them, Jim officially changed their name to Stax (STewart and AXton).
[youtube=http://www.youtube.com/watch?v=7Z3uzKkdaoU]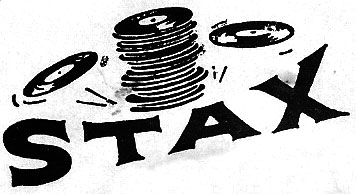 With the success of their first few records, Stax began picking up more local talent. The Mar-Keys, with the addition of local piano/organist Booker T. Jones, became Booker T. and The MGs
(Booker, Steve Cropper on guitar, Lewie Steinberg on bass with "Duck" Dunn occasionally filling in [taking over the bass spot in 1964], Al Jackson on drums) became the house band, along with Wayne Jackson on trumpet, Packy Axton, Floyd Newman and Gilbert Caple on sax and a young Isaac Hayes on keys. By the mid-60s Hayes was the house songwriter along with his partner David Porter, as well as Steve Cropper, who had also taken up A/R duties and producing/arranging duties. 1962 saw the addition of Stax' most prominent artist, Otis Redding. Together with Cropper and the rest of the MGs, he would cut several hits for Stax (and its subsidary Volt) that would prove to stand the test of time. Along with other major acts like Sam and Dave, the most successful soul-duo of all time charting the most R&B hits of the 60s, second only to Aretha Franklin, Stax developed and perfected the Southern soul sound. The fact that the house band was integrated, bringing influence from the country, jazz, gospel and rock worlds, and injecting it into a distinctly black music set Stax far apart from its Northern rival, Motown.
[youtube=http://www.youtube.com/watch?v=dael4sb42nI&feature=related]
1960-1968 is a distinctly different period for Stax, from the later years of 1969-1975. The former being marked by the leadership of Stewart, and the musical influence of Booker T. and The MGs, while the later was guided by the expanding vision of Al Bell, the man who would buy out Stewart/Axton, and the creative team of Hayes/Porter. After the death of Redding and half the members of The Mar-Keys, focus began to shift over to Hayes as the leading artist. The distribution contract between Atlantic and Stax was up for renegotiation; unfortunately for Stewart, the fine print in his original contract gave Atlantic ownership of all masters up to 1968. All of the Atlantic recording artists, including Sam and Dave had to leave Stax, and all future royalties for any earlier recordings were no longer in the hands of Stax. Stewart sold the company to Gulf and Western, Al Bell stepped up from National Director of Sales to acting President and the company continued to grow in a different direction.
[youtube=http://www.youtube.com/watch?v=u_juH0AHvwk]
The addition of Al Bell, a DJ from Washington DC, in 1965 changed the whole game. Whereas Jim and Estelle operated on a small-scale, regional label, Bell took their product to NYC and LA, bringing in musicians and producers from Detroit, expanding the sound and reach of the Stax product. This caused unrest with many involved, and by the late 60s Estelle had pulled out, along with Booker T. and other Stax regulars. Despite this, and the loss of key artists, Stax continued to grow through the early 70s, going toe-to-toe with Motown.
The MGs had success of their own, putting out multiple hit instrumentals throughout the mid to late 60s, and they continued to do more for a few years, but by 1970, most of the original band had gone on to pursue other opportunities. Isaac Hayes stepped up with his album Hot Buttered Soul in 1969, which went triple platinum. Through the 70s, artists such as The Staple Singers, William Bell, Hayes, Rufus and Carla Thomas, The Bar-Kays and so on became leading R&B/Soul artists, eventually headlining the Wattstax Music Festival on August 20, 1972.
[youtube=http://www.youtube.com/watch?v=tNwr5Z-uq1I&feature=related]
Though the music Stax was pumping out was continuously charting, the business deals Bell was brokering were not providing the funds to continue. A bad distribution deal with Columbia Records kept a lot of Stax product out of northern retailers, despite high demand. Columbia just didn't put much time into marketing, thinking that it would cause competition with its other distribution deals. Loans were taken out to keep the company afloat, which Bell used to buy out Stewart's 50%, but this proved to be fatal, causing Stax to go into forced bankruptcy. What was left of the label was sold to Fantasy Records. The 80s and 90s saw reissues of post-1968 Stax material, but the purchase of Stax by Concord Music in 2005 saw a reemergence of Stax as a new-talent label. Together with the Stax Museum of American Soul, southern soul is finding a new, younger audience.
Stax Records was the underdog that should never have made it into the spotlight. All factors involved, from the integrated bands, to its location and the events swirling around that part of history were working against everything involved. In the same breath, we can conclude that this is just what America needed. We needed that specific sound, we needed that specific group to propel it, we needed that particular handful of people willing to fight for it. The little label that could, really DID. We as a nation and an audience are all the better for it. It's echo through the radio speakers still puts a smile on our faces, as we sing every note in time with the band. It's that sweet soul music that keeps us singing
[youtube=http://www.youtube.com/watch?v=9W4zlYem67w]